I've noticed that I tend to go through at least two revisions on most of my stories.  The first one generally identifies the problems in the rough draft and eliminates them, while the second one adds anything that's missing and smooths the story over so that it works as a whole.  They both use different parts of my brain: one critical, the other creative.  Since both are important, I can't easily skip either of them, and combining them into one mega-revision doesn't really work because it's hard to switch from one mode to the other.
I'm currently in the second revision for Star Wanderers: Dreamweaver, and it's coming along really well so far.  Now that I'm in creative mode, it's a lot easier to add stuff that was missing from the first draft and tidy up some other parts that seem a little disjointed.  With luck, this revision should be finished in a day or two.  It's really only one chapter that needs the bulk of the work–according to my first readers, everything else is pretty good.  Far be it from me to fix something that isn't broken.
###
The other day, an old friend of mine emailed me with a question about the world building / plotting process I followed for Star Wanderers.  I wrote a fairly lengthy response, and while most of it was a more detailed explanation of the stuff I've already included in the various author's notes, I came up with some advice that surprised me:
If I had to give any advice, I'd say that the most important thing is to just feed your creativity.  You can't force your imagination, just like you can't get any more golden eggs by killing the goose that lays them.  However, you can organize your life and your environment in such a way that bursts of creativity are longer and more frequent.  A huge and important part of it is learning to turn off your internal critic, especially on the rough draft.  Sometimes, if I spend too much time thinking about writing, it paralyzes me so that I can't actually write–but if I trick myself into opening my WIP without really thinking about it, then ten minutes later I'm plugging away and the ideas are flowing.  And just as bad habits can be very harmful, good habits can be very helpful.
I think a lot of us creative types tend to force ourselves a little too much, especially when we're first getting started.  We want to be productive, we want to have something that we can show for ourselves in order to feel validated, especially with so many people raising eyebrows at our dreams and creative pursuits.  But productivity goals, while important, are really only a means to an end–and they're not even the most important means most of the time.
If you want your work to ring with authenticity, or to reflect the truth and beauty you see in the universe, you have to be in touch with that kind of stuff.  And once you get back in touch with the stuff that drove you to create in the first place, there's nothing that you want to do more.
This morning, I wrote for three hours in one sitting, and I wasn't tempted by any distractions at all.  I only produced about 1.3k words, but they were good words that added both to the story and my understanding of the story.  I got back in touch with the spark that drove me to write it in the first place, and hopefully that spark will carry through to the readers.  I think that it will.
So yeah–it's not about productivity goals, or reworking our creative process to be more like someone else's, or any number of other writerly insecurities.  It's all about story, and everything that drives us to tell them.
###
All right, if you're still reading (or even if you cheated and skipped ahead), I have a treat for you.  I just found the AWESOMEST image for the cover of Star Wanderers: Benefactor, which I hope to finish up later this week after finalizing the revisions for Dreamweaver.  Here's the cover: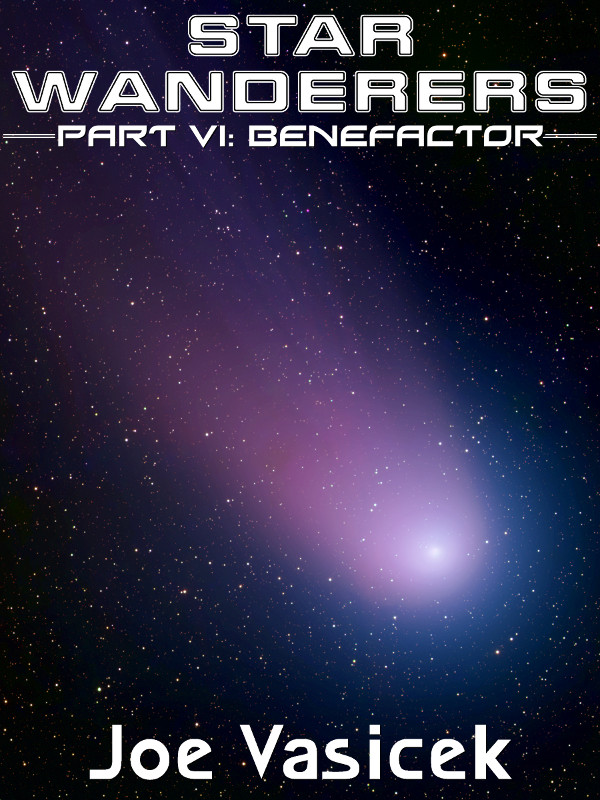 Pretty cool, eh? I <3 NASA.

The picture is of Comet C/2001 Q4 (NEAT), taken by the WIYN 0.9-meter telescope at Kitt Peak National Observatory near Tucson, Arizona.  It was taken on 7 May 2004, and covers an area roughly five times the size of the moon.  As with all NASA images, it's in the public domain.
The inspiration actually came from comet PANSTARRS, which is visible in the sky right now.  I tried to catch a glimpse of it tonight from the Y Mountain trail head, but there were too many clouds on the horizon to see it clearly.  Hopefully, the skies will be clearer tomorrow.
In related news, comet ISON later this year is expected to put on a really incredible show.  Astronomers think that for a brief time, it may even shine brighter than the moon, making it visible even during the day!  If that happens, it's going to be AWESOME.  Mark it on your calendars for November–it's going to be great!
That's just about it for now.  I'd better get back to forming those good habits I mentioned earlier–like actually getting to bed at a reasonable hour. Later!