So!  My Christmas vacation in Texas is over, and I'm on the road again, hanging out here in Utah before catching the train to my parents' house in Massachusetts and (hopefully) going overseas before the end of the month.
It was a great break!  Great to see my niece and three nephews together.  I swear, my sisters have the cutest kids; it's going to be a real challenge to find a woman beautiful enough so that my kids will be able to compete!  For Christmas, I gave them all trilobites from my fossil collection.
My favorite moment was probably playing with them at the community park, on the slides and other stuff.  Jane, who is two and a half, likes to wear pretty dresses and run around the playground talking to herself, which is really cute.  Dan, who just started to walk, would climb up to the slides and then stop at the top because he's too scared to go down.  It was fun watching him discover and explore his world.
On the way back to Utah, we stopped by my old roommate Steve's place up in Dallas.  He lives in an apartment that is just like a freaking motel…how crazy is that?  Pretty cool, actually.  It was fun to see him again, especially since he's getting married in April.  Good times.
My sister gave me the gift of her stomach flu, though, which really hit the next day.  Around Amarillo, it got so bad that we pulled over on the shoulder and I fell out of the car vomiting. It was…like something from one of my novels, actually.  We were hoping to make it all the way to Farmington and the Navajo reservation, but ended up in a Hotel 8 outside of Clines Corner for a very miserable night.
The next day was much better, though, and we made good time all the way back to Provo.  My brother in law couldn't stop talking about the book I'd gotten him, Born to Run, and said that it's changed his life (he's a runner…go figure).  We also talked about story structure, Girl Genius, places we'd like to settle down, life plans, etc.  Stopped in Moab for some dinner, and in Bluff to check out this really cool looking historical site.  We switched over in Blanding, and before we knew it, I was pulling us into Provo after driving almost five hours straight.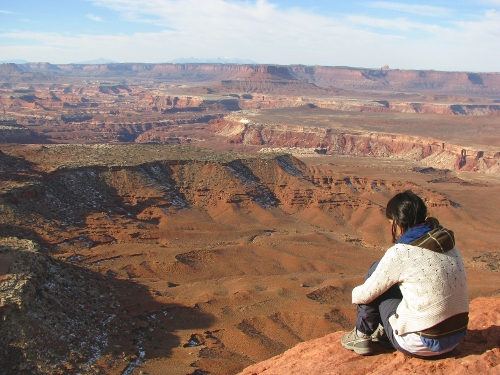 As a side note, I want to say that I love Southern Utah.  ZOMG, it has some of the most beautiful desolate country I have ever seen.  Inasmuch as I can see myself settling down anywhere, I'd really like to settle down in a place like Monticello or Blanding or Saint George.
Texas is also beautiful, but I'd probably find the rampant consumerism a bit too stifling, and New England winters are far too dark and depressing (unless you have a cozy little cottage with a wood-burning stove).  But Utah–this is my people, living in my kind of country: wild, open, and desolate, where the pioneers are remembered by name and ancient Indian ghosts still haunt the land.
So anyway, I'm back in Provo for a day before heading out on a train late tonight to Massachusetts.  If you're in the area and want to hang out, give me a call.  This is my last day in Utah for at least the next couple of years or so, and I want to make it count!
My internet access in the next couple of days is going to be spotty, but I want to do a couple more posts to round out the year.  A lot of things changed for me in 2011, so I want to recap that, and I've been thinking a lot about my New Year's resolutions, so I'll definitely do a post on that as well.  I'll probably write those on the train, though, so they might not go up until next week.
That's the plan, anyway.  I hope you all had a wonderful Christmas, and I look forward to hearing from you again soon!