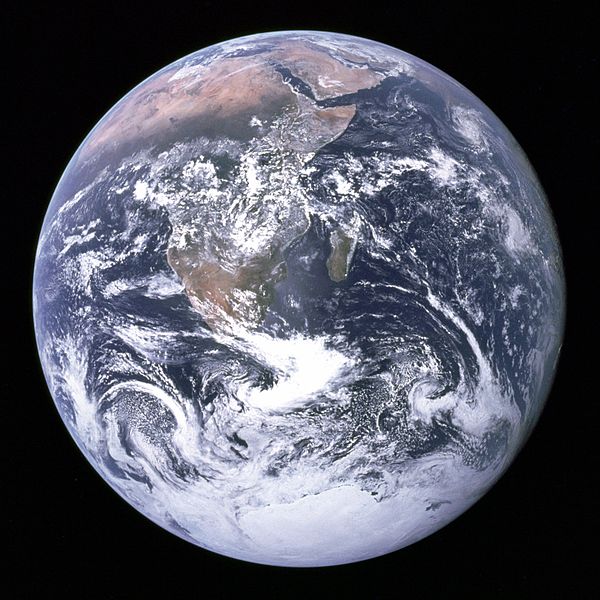 How will your life impact the world in a thousand years?
It's an easy question to dismiss. After all, how can one person possibly shape the course of history? Even if we accept the impact of certain great men, how can we have the hubris to think that we might one day join them?
But the truth is that our lives have more impact than we realize. Each one of us is literally a product of our ancestors. Their decisions, for good or for evil, have put us where we are today. We also have a hand in shaping the people we come into contact with. That impact can be felt through multiple degrees of separation—and how many degrees does it take to encompass the world?
In the year 1017, Europe was rising out of the ashes of the Viking age. Kievan Rus was ascendant in the east, vying with the Romans who dominated the religion and commerce of Europe (we know them today as the Byzantines). However, tensions were rising between Constantinople and the bishopric of Rome, where one of the last vestiges of the Roman state in the West would soon break communion and form the Catholic Church. Meanwhile, an apocalyptic Muslim death cult known as the Fatimids had swept from North Africa all the way to Baghdad, the cultural and scientific capital of the world. From the harsh steppe wilderness of central asia, the Seljuk Turks were building an empire that would save Baghdad from destruction, while in China, the Song dynasty had invented the first paper currency.
In short, it was a completely different world. How different will things look a thousand years from now?
By the year 3017, we will probably have established an independent colony on Mars. Other parts of the solar system will probably also be colonized, and we may have even begun our expansion to the stars. After all, faster than light starship drives are about as fantastic to us as cars, airplanes, and space stations would be for medieval serfs.
It is highly unlikely that the United States—or any other country, for that matter—will exist with its current borders. In fact, it's highly unlikely that the majority of countries extant today will even exist at all. China is probably an exception, but let's not forget that China is a civilization pretending to be a country.
Pessimists will say that there's a good chance humanity won't exist at all. They point to things like climate change, pandemics, and global war as challenges we may not overcome. But in the last millennium, we faced all those challenges and rose above them (little ice age, Mongol hordes, black plague). Same with the millennium before (extreme weather and crop failures of 535-536, Muslim conquests, plague of Justinian).
So how will your life impact the world a thousand years from now? What sort of impact do you want your life to have? How have the things you've done today brought you closer to leaving that legacy?
I've thought about this a lot over the past few weeks. I want to impact the world through my books, but it's unlikely that most of my books will still exist. My family and descendants will, though. I want to leave them with the best foundation I can. Here's how I plan to do it:
Step One: Master the Basics of Provident Living
Provident living is more than just learning how to do your laundry and keep up with the maintenance of your car. It's learning how to live sustainably, with a degree of self-reliance that can see you and the ones you love through hard times. It's all the stuff I've been writing about in the Self-Sufficient Writer blog series.
I've made a lot of progress in this area, but there's still a lot of progress left to make. Here are the next few steps I want to take in this area:
Establish a rotating 90-day food storage for dry goods.
Establish a herb garden.
Expand food storage to canned goods.
Buy a chest freezer and expand to meats and dairy.
Plant a garden and expand to fresh fruits and vegetables.
Learn how to can.
Learn how to hunt.
Begin keeping livestock (chickens, goats, etc).
A lot of these steps are going to have to wait until I have my own land, which brings us to:
Step Two: Live Debt-Free and Own the Place Where You Live
When you live on someone else's land and owe them a portion of your labor, that's a form of serfdom. In both historic and modern times, this has been the norm for the vast majority of people.
It shouldn't be.
When my ancestors came from Europe to the United States, one of the first things they did was buy land. There was a reason for this. In the old country, they were serfs. They paid the corvée. They were not free.
They knew that unless they lived on land that they owned, in a home that was theirs, their children would not be free either.
We've enjoyed a century of prosperity in the United States. It's led us to believe that home loans and mortgage payments are normal. They aren't. When your home is the collateral for a loan you've taken from the bank, and you spend most of your adult life paying it back to the tune of 250%, that is a modern form of serfdom.
Until you own it outright, your house is a liability, not an asset. And in some places, true ownership is impossible. After all, if the government has the power to seize your house for non-payment of taxes, did you really ever "own" it to begin with?
It's a similar thing with debt. All debt is a form of bondage. "Leverage" is when someone else has control over you or something that belongs to you. Unless you can get out from under it, you will never truly be free.
If most of your life is spent in serfdom and bondage, the thousand-year impact of your life will be muted.
The Habsburg dynasty started with a small castle on the top of a hill. From that starting point, the family went on to shape the development of Europe into the modern world. The castle was so important in that effort that the family took their name from it.
I know how to live debt-free. I've been doing it for several years. But I do not currently live in a place that I own. That is my overriding goal: to own the place where I live within ten years.
The government isn't making it easy. Neither are the central banks. A decade of 0% interest rates has ravaged the middle class. As a direct consequence, home ownership rates are dropping to historic lows. 70% of Millennials have less than $1,000 saved for a down payment on a house, while at the same time, the helicopter money from the Fed has inflated a new housing bubble larger than the one that burst in '08. In California, Google employees with six-figure incomes are living out of RVs because they can't afford to buy a house.
It's brutal. These are the same economic pressures that led to the rise of medieval serfdom in Europe. But there are also opportunities, for those who know how to take advantage of them. Which leads to:
Step Three: Build Multi-Generational Wealth
Poor people buy luxuries. Middle class people buy necessities. Rich people buy investments. If I want to leave something behind for my children and descendants, I need to master the skills of investing and managing wealth.
This goes back to the thousand-year view. The biggest impact I'm probably going to make on the world is going to be through my children and descendants. Raising them will be the most important investment I can ever make. I want to give them a life of opportunity, so that they, like me, can make a thousand-year impact on the world.
This is what my ancestors did for me. My Mormon ancestors crossed the plains in the Willie handcart company so that their descendants could grow up in Zion. My first-generation immigrant Czech ancestors invested in Texas farmland that still pays a small dividend to their descendants (greatly increased now because of oil royalties). There are many other countless others who made great sacrifices so that I could enjoy a life of privilege and opportunity. I'm sure that's not unique to me.
We seem to have forgotten, here in the United States, how important it is to make sure that our children enjoy better lives than we have. To some generations much is given, while of others much is required. I fear that we are transitioning from the former to the latter. Nations are born stoic and die epicurean, surrounded by mountains of debt.
This is why it is so important to build wealth: not for your own personal consumption, but for the security of your children and descendants.
The most important investment you can make is in your education. If I'm going to develop these skills, that's what I need to do: invest in my own financial education.
I also need to learn by experience, so I'm taking $100 of my book earnings each month and investing them. I'll probably experience a couple of big losses, but that's called paying tuition. The knowledge I gain from doing this will hopefully help to accomplish this goal: to build wealth that will bless the lives of my children and descendants for generations to come.
A lot of things fall into perspective when you take the thousand-year view. When you focus on the challenges of the present, it's easy to become pessimistic, but when you take a clear-eyed look at the future—not just the immediate future, but the long-term future as well—you cannot help but take an optimistic view.
How will your life impact the world in a thousand years?