I'm back from vacation, but I'm going to take a break from the Hero's Journey trope posts to talk about something that I really feel passionate about.  I hope you'll forgive me if this turns into a rant, but I think this is an important issue that has some very dangerous implications that need to be explored.
In modern fiction, there's a very prominent trope that a man is not a virgin.  The basic idea is this: if the protagonist is an adult male and he hasn't yet had sex with a woman, there's something fundamentally wrong with him.  Of course, because of his adventurous lifestyle, he can't be tied down in a committed relationship–that would spoil the story.  But he can't be holding himself back, either, lest his manhood come into question.  And most of the time, he doesn't really want to, anyway.
This trope has a whole host of unfortunate implications, though, all of which serve to reinforce constrictive gender roles, disempower both men and women, drive a gulf of misunderstanding between the sexes, and emasculate true manhood and its role in our society.
To demonstrate this, let's take this trope to the logical conclusions that our society seems to have come to.
If a man is not a virgin, then sex is a rite of passage, and it isn't rape if it's female on male.
In fiction, the sex as rite of passage trope is often seen in stories about angsty teenagers trying desperately to get laid. These are not typically stories about love–they are stories about peer pressure, objectification, and power.  By equating sex as a rite of passage in this way, it actually divorces sex from any concept of love or commitment, and turns any form of physical intimacy into a caricature of itself.
It doesn't stop there, though.  If sex is a rite of passage, then it's only reasonable that the young novice should have an older mentor to help him through the initiation process.  Thus we get the professional sex-ed trope, where the boy's mentors or guardians help guide him through his first sexual encounter.  The implications for pedophilia and underage sex are more than a little disturbing.
We can see this trope in action in the way we treat female sex offenders.  If a 30-something male teacher has sex with one of his female students, he gets a lengthy prison sentence and spends the rest of his life stigmatized as a predator.  If a 30-something female teacher has sex with one of her male students, she gets a slap on the wrist and TV spot.  She's not a sexual predator–she's just having a personal crisis.
Needless to say, this double standard is extremely destructive for the victims of such abuse.
If a man is not a virgin, then men cannot help themselves.  Therefore, all men are perverts.
If a true man is not a virgin, then a true man doesn't say no to sex.  Even if he can say no, he won't because that's just not what men do.  Therefore, being a man is functionally synonymous with being a pervert.
The danger here is that it reduces men to their basic animal urges.  If being a man means finding a warm, inviting place for your penis each night, then you might as well go out to the pasture and eat grass.  Whatever happened to self control and delayed gratification?  Do you think anything meaningful would ever have come out of our civilization if we couldn't keep our pants on?
And yet, both men and women seem perfectly willing to believe that it's not only unmanly for a man to control his animal urges, it's impossible.  On the Kindle Boards forum about a month ago, there was a thread on erotica and marriage and one of the members posted this:
I used to work as a forums admin on a large women's forum (over 100,000 members) and the relationships forum had a lot of heated discussions on this topic. I won't of course refer to any specific threads, but the discussions went a lot like this:

One woman concerned that her husband was spending too much time watching porn
A massive amount of women telling her that it's ok, that 'all men watch porn'
A small amount of women saying either they don't agree with it or that their men don't view it
A percentage of women saying their men are addicted to porn and would rather watch it than go to bed with a willing wife
A percentage of women saying it's not the porn itself that concerns them, but the type of porn their husbands watch
Another group of women saying they either watch it themselves, or watch it with their husbands
Yet another small group of women who either were or are prostitutes/strippers/involved in amateur porn (who are either for or against based on their experiences)
A very vocal percentage of women saying that if your man says he doesn't watch it, he's a liar
A heated discussion ensuing….
How does it possibly empower men to tell them that they cannot control their own sexual impulses?  It's a self-fulfilling prophecy, which harms not only men but women as well.  If all men are perverts, then women can't afford to wait for a decent man and should settle instead for a deadbeat porn addict.
But that's not even the worst of it:
…and if all men are perverts and all women are prudes, then men and women are two entirely different species that are completely incapable of understanding one another.
This one really gets to me.  I hear it everywhere, even from people who don't consciously buy into the logic behind it.  I used to buy into it myself.  It's the idea that women are so complicated that they are impossible to understand, whereas men are as simple as an on/off switch.
In my experience, men and woman are both human.  Both of them are equally complex and equally emotional.  Yes, they are different, but in such a way that it's equally difficult (or equally easy) for the one to understand the other.  Generally, women tend to externalize their complexity, whereas men tend to internalize it.  At least,  that's what I've found.
Our society takes this to the next level, however, and teaches men that they should just swallow their emotions.  If they don't, they risk being seen as weak or effeminate (never mind that equating weakness with femininity is a whole other can of worms in itself).  And after a lifetime of living this way, it can be hard not to believe that that's just the way men are.
But this is perhaps the most insidious danger of all.  It's the falsehood that real men don't cry, or show emotion, or have any capacity for compassion or tenderness.  It's the fallacy of equating strength with violence.  It's the destructive belief that men will never rise above the lowest common denominator of their hormones, and should never even try.  And because men are so obviously different from women in this regard, any attempt to understand them would be futile.
But how can you have a committed relationship with someone you can't understand?  How can you possibly hope to make the necessary sacrifices for each other to make the thing work out?  And if you can't reach the understanding necessary for a committed, loving relationship, how can you ever hope to raise a family together?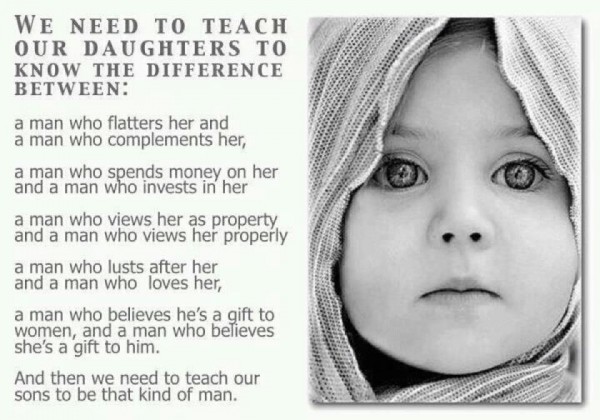 So yeah, sorry for the rant, but this trope REALLY gets under my skin.  It doesn't help that one of my favorite authors, David Gemmell, is a big fan of it.  I tried to get into his Rigante series, but this trope was so strong that I couldn't finish the first book.
I should also clarify that the thing that irks me isn't just the trope, but how much our society has bought into it.  By themselves, tropes are neither good nor bad, but when something like this becomes so prevalent that it defines the entire operating system on which our society is based, that's when someone needs to speak out.
And for the record, I am a 28 year old single male who is not ashamed to say that he is still saving himself for marriage.  Am I gay?  No.  Has it been difficult?  Yes.  Am I anything less than a man because of it?  Hell, no.  In fact, I would argue that the wait has made me more of a man than I otherwise would have been, and I'm sure that my future wife will agree.
Real men aren't defined by their hormones or their sexual history.  They're defined by the way they treat the people around them, especially the ones who are most important in their lives.