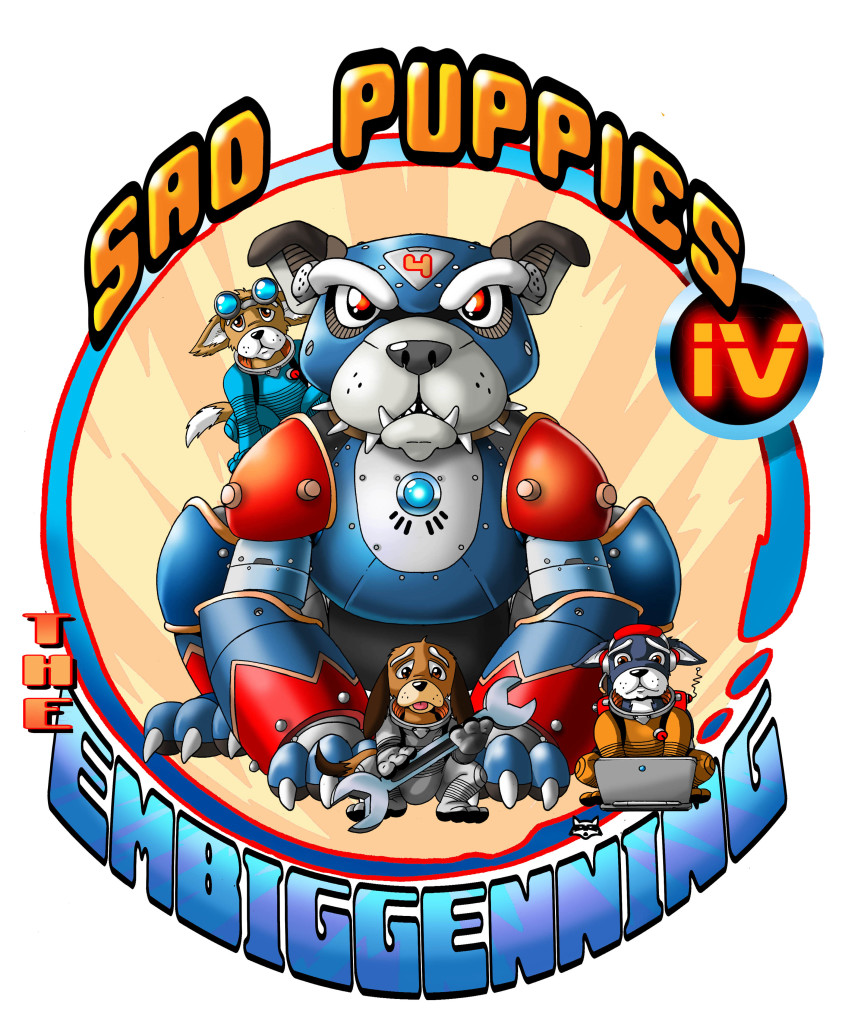 So it's not yet 2016, and the first salvos in the Sad Puppies 4 campaign have already been fired, in the form of a kerfluffle over on George R.R. Martin's blog.
For those of you who haven't been following Sad Puppies, I can't say I blame you. It's basically an ongoing civil war within Science Fiction & Fantasy fandom, between those who believe that the genre should serve the cause of social justice, and those who believe that there should be room for writers on all sides of the political spectrum—that it should just be about telling good stories. Last year, the Sad Puppies (the ones who believe it should only be about the stories) swept the nominations for the Hugo Awards, the (onetime) most prestigious awards in the SF&F genre. The resulting brouhaha was not pretty.
Last year, George R.R. Martin was very aggressive in attacking the puppies. That's what makes his latest puppy-related blog post so interesting. In it, he basically calls for an end to "puppygate" and for everyone to just get along. In his own words:
The last thing I want… the last thing anyone who truly loves science fiction, fantasy, and fandom would want… would be to have to go through the whole thing again in 2016. Whatever your view of how the Hugo Awards turned out at Sasquan, I think we can all agree that we would like MidAmericon II's awards to be more joyful, less rancorous, less controversial.
Now, I don't disagree with Mr. Martin's sentiment. I too would like to see reconciliation and de-escalation of the ugliness that we saw from both sides in 2015. And to be fair, Mr. Martin does give a positive characterization of what's going on right now with Sad Puppies 4. That's a good first step.
The trouble is, you don't achieve reconciliation by shouting at the other side to lay down their guns first. You achieve it by hearing and acknowledging their grievances. You might not agree that those grievances need to be rectified, which is fine—that's what negotiations are for—but you do have to make an effort to listen to the other side. And it's clear enough that Mr. Martin is not listening.
The core of the Sad Puppies movement is a rejection of elitism. In contrast, Mr. Martin's position is that there are fans and there are Fans. Fans like him, for whom every aspect of their lives revolves around Science Fiction and Fantasy, should have more control, more respect, more ownership—in fine, they should matter more to the genre than the other kind of fans. When pressed, of course, he denies that any part of fandom is any better than the others, but that's not what comes through in his other positions. "Separate but equal" is the phrase that comes to mind.
The problem here is that Mr. Martin wants to have his cake and eat it too. He wants the Sad Puppies to lay down their guns, but he doesn't want to lay down his own. If he were genuine about burying the hatchet, he would acknowledge his own elitism, acknowledge that this is a grievance that the Puppies hold against him, and either recant his position or say "we're going to have to agree to disagree."
Personally, my position is the opposite of Mr. Martin's. I think that SF&F should be a big tent that privileges or denies no one—that everyone who calls themselves a fan of the genre should be on equal grounds. After what happened in 2015, I'm as disgusted with the Hugo Awards as Feynman was disgusted with honors and epaulettes:
Am I willing to agree to disagree on that point? Sure, so long as I'm not cut out of the table—so long as I'm not branded a "racist," or a "misogynist," or a "neo-nazi" for aligning with the Sad Puppies. But the puppy-kickers and their SJW allies have deliberately mischaracterized us since the beginning, and I have no doubt that they will continue to do so in 2016.
Mr. Martin, if you're reading this and if you're genuine in your desire to avoid another "puppygate," please don't try to passive-aggressively handwave us away. I applaud your sentiment and believe that your heart is in the right place, but reconciliation requires genuinely listening to the people you disagree with.