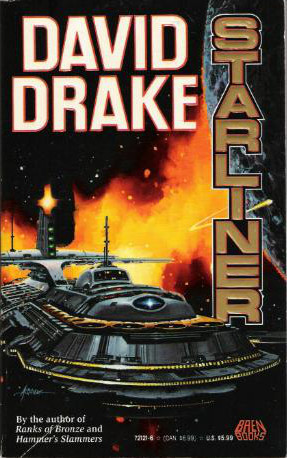 Welcome to the Empress of Earth, the finest luxury liner in all of settled space.  Whether you're alien or human, first class or economy, there is a place on the ship for you.  Just watch out for those Grantholmers and Nevassans–those planets are about to go to war, but don't worry, the Empress is strictly neutral territory.  The envoys from Earth will see to that.  And as for the rumors that one of those sides might try to hijack the ship, I'm sure the crew is capable enough to deal with such threats.  Even if they are unarmed…
I saw this book on my also-boughts on Amazon, so I decided to pick it up.  It was an enjoyable read.  David Drake is very good at showing competent characters dealing with all sorts of complicated problems, operating within a strict chain of command while sometimes bending the rules a bit to get the job done.
The book is really a series of small vignettes, all tied together through the main viewpoint character, Ran Colville.  There is an overarching storyline about the Empress's role as a coveted pawn in a larger interstellar war, but that only really drives the story at the very end.  Really, it's more of a slice-of-life story about the crew of the ship, punctuated by all of the strange and exotic stops along the way–and boy, are there plenty of those!
Even though the Empress is neutral, she's a potentially valuable military asset that both sides in the Grantholm-Nevassan war want to capture.  To complicate matters further, some of the passengers are dignitaries from either side.  At one point, there's a romance between the peacenik daughter of a Nevassan diplomat and the son of a Grantholmer nobleman who is honor-bound to fight in the war.  That subplot was a lot of fun.
As you can imagine, there's plenty of violence.  And really, what would you expect from one of the world's best military science fiction writers?  Drake does a really good job showing the adrenaline-soaked excitement of combat, as well as all the ugliness.  Even the mooks get a viewpoint from time to time, and when they die, it's messy and traumatic.  For that reason, the violence feels very realistic, especially in how it affects the main characters.
Ran is something of a player, so there is a fair amount of explicit sex (including a bit of inter-species action).  Drake doesn't mince words or shy away from the gritty details–he puts it all on the page as matter-of-factly as any other aspect of life.  The sex was brief enough that it didn't really bother me that much, but Ran's relationship toward one of his coworkers takes a turn at the end that seemed to come completely out of left-field.  I could understand why, for the purposes of the story, it had to happen, but the way it was handled I just didn't buy it.
That was probably my biggest gripe.  If I had another, it would be that the story seems to meander a bit in the first two-thirds, but the world-building was interesting enough that it didn't really bother me.  Overall, it was a fun, light read (well, light for military sf).  The ebook version is free on Amazon, so it's definitely worth picking up.  If you haven't read any David Drake yet, this isn't a bad place to start.