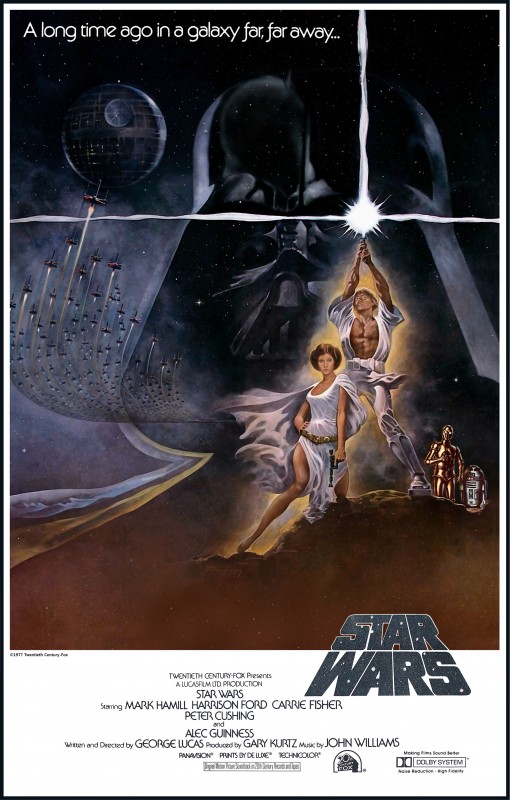 They say that the golden age of science fiction is about twelve years old.  That's definitely true for me.
My first exposure to the genre was Star Wars: A New Hope.  I saw it when I was seven, right around the height of my dinosaur phase.  Everything about the movie completely blew me away, from the Jawas and Sand People of Tatooine to the stormtrooper gunfights and lightsaber duels.  After watching Luke blow up the Death Star, I spent the next few hours running around the yard pretending to fly my own starfighter.
In a lot of ways, I've never really stopped.
My parents made me wait until I was nine to watch The Empire Strikes back, because it was rated PG.  Without any exaggeration, I can say that those were the longest two years of my life.  I was literally counting down days by the end, and to pass the time without going crazy, I read up on all the books about space that I could possibly find.
My father bought the original X-wing flight simulator game somewhere around then, and I soon became totally engrossed in it.  Since the 386 was our only entertainment system (no Super Nintendo–I had to visit a friend's house for that), X-wing became the defining game of my childhood.  I spent hours and hours on that game, to the point where I knew exactly which simulated missions the characters from the books were flying and how to complete them faster and easier.
I thought The Empire Strikes Back was a little slow the first time I saw it, but it's since grown on me, to the point where now it's my favorite film in the whole series.  Thankfully, my parents let me watch Return of the Jedi the next day, and for the next few months my life felt utterly complete.
Around this time I discovered the Star Wars novels and soon immersed myself in them.  The Courtship of Princess Leia by Dave Wolverton soon became one of my favorites, as well as the Heir to the Empire trilogy by Timothy Zahn and the X-wing series by Michael A. Stackpole.
But it was Roger Allen McBride who first introduced me to a different flavor of science fiction with his Corellia trilogy.  As I mentioned in V is for Vast, those books had just enough of a touch of hard science to intrigue me about the other possibilities of the genre.  That was the last Star Wars series that I read before branching out into other works of science fiction.
The Tripod trilogy by John Christopher was my first introduction to the dystopian / post-apocalyptic genre, depicting an enslaved humanity after an alien invasion.  Those books really captured my imagination for a while.  The Giver was also quite interesting and thought provoking, though since it didn't involve spaceships or aliens it wasn't nearly as compelling.
I read a lot of fantasy in my early high school years, including Tracy Hickman, Lloyd Alexander, and (of course) J.R.R. Tolkien.  While I enjoyed those books and immersed myself in them for a while, my true love was still science fiction.  For almost a year, I watched Star Trek: Voyager religiously with my dad.  And every now and again, I'd pick out a science fiction book from the local town library and give it a try.  That's how I discovered Frank Herbert's Dune.
In eleventh grade, my English teacher had us choose an author and focus our term papers solely on their books for the entire year.  She suggested I choose Orson Scott Card, but I chose Cormac McCarthy instead.  I'm not sure if that was the worst decision of my high school career, or the best decision, since assigned high school reading tends to make any book feel like it sucks.  I discovered Ender's Game the following summer, and finished it in a delirious rush at 3am the morning after checking it out from the local library.
More than any other book, Ender's Game cemented my love for the genre, and showed me just how powerful and moving the genre could be.  It opened so many insights into the world and human nature, reading that book made me feel like I'd opened a pair of eyes that I didn't even know I'd had.  Looking back, that was probably the moment when I knew I would be a science fiction writer.  I'd known I was going to be a writer ever since I read A Wrinkle in Time at age eight, but to be a science fiction writer specifically, that goal was probably cemented by reading Orson Scott Card.
After high school, I served a two year mission for my church, during which I didn't read any novels or watch any TV or movies.  When I came back, though, Orson Scott Card and Madeline L'Engle helped me to ease through the awkwardness of adjusting back to normal civilian life.  When I left for college, I expanded my horizons even further, starting with Isaac Asimov's Foundation series and Edgar Rice Burrough's Princess of Mars.
When I discovered Pioneer Books in downtown Provo, I knew I'd found my favorite bookstore in Utah Valley.  I have so many fond memories sitting cross-legged on the floor in the science fiction section, browsing through the musty used books for hours at a time.  That's where I discovered C.J. Cherryh, Arthur C. Clarke, Robert A. Heinlein, Ursula K. Le Guin, and numerous other authors who are among my favorites today.
When I discovered Spin, Robert Charles Wilson soon became one of my favorites.  I picked up that novel as a free PDF from Tor, and read it over the summer while studying abroad in Jordan.  Once again, that same hard sf sensibility I'd gotten from Roger Allen McBride touched me in an unforgettable way.  But it was the human element of that book that really moved me–in fact, it's always been about the human element.  The world building in Downbelow Station was great and all, but the romance of Merchanter's Luck had a much more lasting impact.  Starship Troopers had some good ideas, but it was Mandella's personal journey in The Forever War that moved me almost to tears.  The intrigue of the Ender's Shadow series was quite entertaining, but it was Ender's Game and Speaker for the Dead that really taught me what it means to be human.
I finished my first novel, Genesis Earth, shortly after returning from that study abroad, and tried to capture the same sensibility from Spin as well as the intimately human element.  Since then, I've written several more sci-fi novels, some of them tragic, some triumphant, but in all of them I've tried to get as close as I can to the personal lives of the characters.  I don't know if I'll ever write a character portrait so intimate as Shevek's in Ursula K. Le Guin's The Dispossessed, but I certainly hope to someday.
For me, science fiction started out as a wonderfully exciting entertainment and turned into something much more meaningful.  If there's anything the genre has taught me, though, it's that the two aren't mutually exclusive–that you can have your adventure and learn what it means to be human as well.  Indeed, the more imaginative the adventure, the greater the truths I've taken from it.
Because of that, even though I'm almost in my thirties now, I can't possibly foresee a time when science fiction isn't a major part of my life.  It's a love affair that's grown just as much as I have, and continues to grow with each new author I discover and each new book I write.  When I'm old and grizzled and pushing eighty, I'm sure there will still be a part of that twelve year old boy in me, still running around the yard flying his starship.