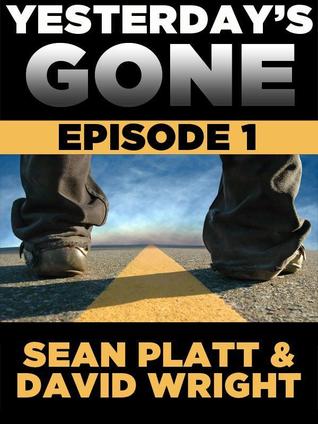 Imagine you wake up tomorrow, and find out that everyone around you has vanished.  Well…not everyone.  But the ones who are still around claim to see strange things that you can't see.  And then, you get an eerie feeling of a presence…something dangerous, something coming at you right now.  And then, things get really weird…
Yesterday's Gone is a post-apocalyptic serial thriller: basically,  a novel divided into six parts or "episodes," the first of which is free.  Since I'm interested in doing something similar with my next project, I decided to check it out.
From the very start, I was hooked.  The conflict was intriguing, the pace was fast and gripping, and the characters were interesting, with reactions that were spot on.  I wasn't intending to finish the whole thing in one sitting, but once I'd started, there was no way I could put it down.
A couple of things jolted me out of the story, though.  The first was the sheer immensity of the cast of characters.  Literally, the first half of the episode was just introducing new ones, and none of them got more than two viewpoint scenes in the whole ebook.  I was on board for the first three or four of them, but around number six or seven, I just wanted to skip them and get back to the first guy.
Two of the later characters were just painful to read–not only did I not care about them, I vehemently hated who they were and wanted them to die or get out of the way so I didn't have to read their viewpoints anymore.  The first was an eight year-old boy who had some mystical connection with animals…I just couldn't sympathize with him at all.  The other one was a serial rapist and/or murderer who saw the apocalypse as just an opportunity to run around raping and killing the other survivors.  I skipped his scenes, but then had to go back because there were some clues hidden there and I didn't want to miss them…ugh.
The other thing that really bothered me was the very last scene in the episode, where the authors made the mistake of showing the monster.  I won't spoil it for you, but the image on the page clashed so strongly with the image in my mind, it deflated almost all the tension for me.  What was supposed to be a cliffhanger instead turned out to be a big "huh?"
Your mileage may vary, however, so if you're into post-apocalyptic fiction, I think it's definitely worth checking out.  Just like the happy pills in the empty lot behind the school, the first one is free: you can pick it up on Amazon or Smashwords.  And in spite of its problems, there was a lot in this story that I really liked.  Maybe you'll enjoy it more than I did.
In terms of the serial format, I think it worked very well, except for those two problems: too many characters to keep track of, and an ending that booted me out of the story.  Otherwise, I think it's a great way to publish, and I'll probably experiment with something similar in the future.