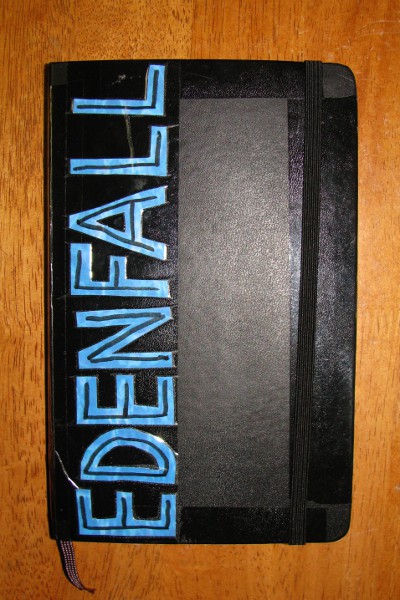 I'm trying something a little different with Edenfall: I'm writing the first draft entirely in longhand.
I first got the idea a couple of years ago, when I was camping in Moab.  The beautiful landscape of southern Utah made me realize that I wanted to write Edenfall while experiencing that sort of connection with nature, and pen and paper seemed to be the best format in which to do that.  This year, when I decided that I'd definitely write it, I ordered the notebook on the left and fitted it out for the project.
With every novel I write, I like to challenge myself in some new way.  In Genesis Earth, I tried out a first person POV with an unreliable narrator.  In Bringing Stella Home, I tried to write a believable female viewpoint character.  I also like to experiment with my writing process, trying out different outlining techniques and writing schedules.  Sometimes, these experiments fail spectacularly, but they also teach me a lot and keep me sharp.
The goal with this experiment is to see how divorcing myself from my computer (with all its myriad distractions) and getting out in nature changes my writing.  I live a short bike ride from the Provo River Trail, and weather permitting, that's where I'll probably spend most of my writing time in the next few days. Besides, I want to see how much of a difference the format makes.
Books existed long before word processors, so I have no doubt that writing a novel longhand is entirely possible.  How much of an adjustment it will be remains to be seen.  My handwriting is messy, and I can't write as fast as I can type, but that hardly matters since rough drafts are slow going for me anyways.
In any case, it's going to be interesting to see how it turns out.  It's been a little slow so far, but that's mostly because I haven't settled into a routine yet.  By the end of this week, I hope to be fully immersed in the world of this story.
In other news, I sent off the manuscript for Sholpan to my editor, and he just got finished with his first pass, so I'm hoping to get the edits back in a couple weeks and have it epublished by mid-September.  More on that as things develop.
Also, an old friend from Brandon's 318 class posted a favorable review of Bringing Stella Home up on Amazon.  He was one of my first readers back when the story had a lot of problems, so I'm glad he enjoyed the final version.  Thanks Stephen!  And yes, I've got a lot more novels forthcoming in the Gaia Nova universe, including a direct sequel to Bringing Stella Home.  Will the McCoy family save the universe from the Hameji?  Well…you'll see.

Finally, I plan on participating in the Out of This World blog tour being organized by the SFR Brigade, which means you'll be seeing some guest posters in the near future.  That'll probably wrap up the Genesis Earth blog tour too, since it's been winding down for the last month or so.  If I agreed to write a guest post for your blog and haven't done so yet, let me know and I'll do my best to get that out to you.  Sorry to be a bit of a flake these past few weeks; I'll try to organize my next tour a little better.
And that just about does it for now.  I'll be sure to keep you posted on how things go with Edenfall.  Until then, take care, and thanks for reading!