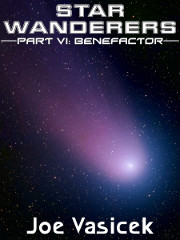 I'm getting ready to publish Star Wanderers: Dreamweaver over the weekend, but first I need to finalize the teaser / book description for Benefactor so that I can include it in the back.  Here's what I've got so far:
IN A COLD AND LONELY UNIVERSE, A SIMPLE ACT OF GRACE CAN RESONATE ACROSS WORLDS.

Jakob is entrapped in a life he never made for himself. A one-time starfarer, now he struggles to provide for his family of starbound refugees. With the recent Imperial takeover of Oriana Station and the worsening economic situation, it's only a matter of time before they're forced to move on—again.

To make matters worse, his wife's resentment has been growing ever since he sent their two sons away to seek their fortunes across the stars. She claims that he stole them from her, when all he wanted was to give them a chance at a better life. Without her support, it's not clear how long the family can hold together.

When a young man and woman with an unusual story show up from his wife's home world, he agrees to take them in, if for no other reason than that they remind of his sons. They soon become part of the family, though this adds even more to the burden he can barely carry on his own.

An outworlder is nothing if not fiercely independent, and Jakob is no exception. He'll sacrifice everything before he asks for help—even if the only other way out lies through an open airlock.
What do you think?  Does it sound interesting?  What works, and what do you think needs to be cut?
Also, a quick update on the situation with Star Wanderers and Smashwords.  I've discovered that the updating problems aren't just restricted to iTunes, but all of the sites that I distribute to through Smashwords (Sony, Diesel, and Barnes & Noble (for Outworlder)).  We haven't been able to get the books fixed, so I've decided to pull them all and republish.
What this means is that the first four Star Wanderers novellas will be temporarily unavailable from these sites, probably for a week or two.  If you got your copy from Smashwords, you should still be able to access it there–the books have been updating just fine on Smashwords, it's only with the other retailers that I've been having problems.  For Dreamweaver, there shouldn't be any problems though (I hope).
Thanks for your patience while I get this mess sorted out!