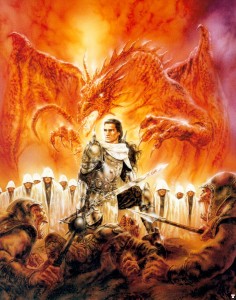 …because I checked out five of the Drenai books by David Gemmell from the library this week, and I'm going to read them all by the end of the month.  I'm already in the middle of The King Beyond the Gate, and it is awesome.
Holy crap, I love the Thirty!  If/when I ever write fantasy, I am definitely including an order of elite warrior priests like those guys!  And the way the Nadir sometimes end up fighting for the good guys, with the interesting twists in their culture that make them more than just the evil rampaging hordes–man, I love that.
I'm also happy because the Provo Library had a used book sale today, and I picked up a ton of new books!  Here's the list:
The Wayfarer Redemption by Sara Douglass,
Starman by Sara Douglass,
The Princess Bride by William Goldman,
The Eye of the World by Robert Jordan,
A song for Arbonne by Guy Gavriel Kay,
Abhorsen by Garth Nix,
The Man with the Iron Heart by Harry Turtledove,
Terraforming Earth by Jack Williamson,
A Bridge of Years by Robert Charles Wilson,
Bios by Robert Charles Wilson,
Serpent Catch by Dave Wolverton (his second novel!),
Looking for the Mahdi by N. Lee Wood,
Warhorse by Timothy Zahn, and
Changeling by Roger Zelazny.
Oh, and a gift book for my mom.  All for $7.

So after I get off my Gemmell binge, which book(s) should I read next?