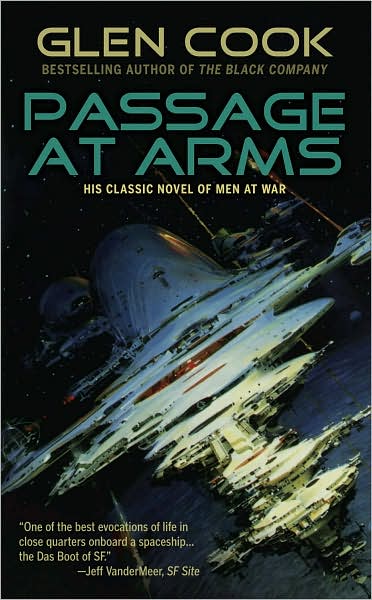 Humanity is losing a long, bloody war of attrition against an alien race.  Our only military advantage lies in the climbers–small, guerrilla style gunboats that can cross into a higher dimensional plane.  Under the right conditions, this technology enables the ships to pass through space undetected.
As the war reaches a critical juncture, one former soldier, now a journalist, joins with the crew of a climber to get the inside story.  What he finds is a far cry from the brave, clean-shaven heroes portrayed by the official war propoganda; the climbers are a gritty, dirty-minded lot of soldiers, cursing the higher ups and living from leave to debaucherous leave.
When worst comes to worst, however, and crap hits the fan, everyone's true colors come out.  When that happens, who will hold together, and who will fall apart?
I enjoyed this book a lot.  Parts of it were a little raunchy, but never too much for my taste, though your mileage may vary.  Glen Cook leans more towards flowery writing than pure storytelling, and while I had a few minor qualms with his writing style, the book was quite compelling.
Glen Cook really excels at character voice and viewpoint.  Even though the book was military sci-fi set almost entirely in space, it had a very distinct, almost noire feel to it.  Everything that happened was heavily filtered through the main character's point of view, which made the narrative feel very intimate and personal.  When Charlie dances the foxtrot, you feel like you're right there in the thick of it.
My favorite thing about this book, however, is the level of scientific realism in the combat systems.  Obviously, things like hyperspace and trans-dimensional drives are entirely speculative, but the orbital dynamics of the planetary siege and visual effects of the nightly bombardment gripped me from the first page.  It didn't feel pulpy or cartoonish at all–in fact, it felt disturbingly reminiscent of news footage from the '91 Gulf War, which haunted me for a while as a kid.  This isn't your typical humans vs. aliens sf adventure novel–it's like a firsthand account from someone who was there.
My biggest issue with the book was more stylistic than anything else; Cook tends to rely on one-sentence paragraphs to add extra punch–which can be effective, when done sparsely.  However, every page would have at least two or three of them, often occurring one after another.  For me personally, that was a bit too much, but obviously it didn't keep me from finishing the book, or enjoying it.
So yeah, if you like your science fiction with a heavy dose of gritty realism, you'll probably like this book.  Even if you don't, it's worth checking it out for the orbital dynamics and other interesting details.  Even though it probably isn't perfect, it feels a lot more accurate than most of the other books out there.