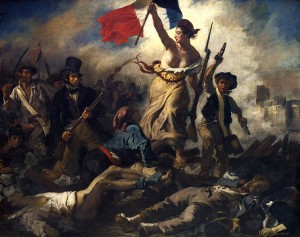 A recent op-ed in the Wall Street Journal titled "Cherish the Book Publishers–You'll Miss Them When They're Gone" has ignited a firestorm across the indie publishing community.  The post's basic argument is that the ease of self publishing and the end of New York as the gatekeepers of quality will make it harder for readers to find the truly worthwhile literature amid the flood of crap that will inevitably overwhelm us all.
Joe Konrath fired the opening salvo; in characteristic fashion, he decried the op-ed as hogwash and blamed jealousy among traditionally published writers for the perpetuation of this myth.  He concluded that while the "tsunami of crap" is real, it is ultimately irrelevant.
His advice? "Don't write crap."
Michael A. Stackpole responded by examining the much more dangerous fear of authors worried about the coming flood; the fear that their own work is crap, and not worth putting out.  After examining what we mean when we call something "crap," he concludes that the really bad stuff will sink to the bottom…
…not because of a rising tide of crap, but because they deliberately swim toward the bottom, open their mouths, and willfully suck.

And the rest of us will happily swim past the effervescent markings of their demise, moving on into the golden age.
Kris Rusch's take on the issue was perhaps the most instructive of all.  First, she used her own experience as editor of The Magazine of Fantasy & Science Fiction to completely blow out of the water the idea that editors are arbiters of good taste.  Editors buy what they like; when they try to predict what the public will like, more often than not they fail–and when they try push their own reading tastes onto the public, they make themselves irrelevant.
She concluded that the only truly relevant "gatekeepers" are other readers–that word of mouth is still king, and because the traditional publishing system treats books "like produce, taking them off the shelf as if the book will rot after a month," indie publishing is much better suited to help the good stuff rise to the top.
David Gaughran responded next by pointing out all the ways that indie publishing and the ebook revolution are enriching the literary world.  He concluded that the only people hurt by these changes are the middlemen–that both writers and readers only stand to benefit.
Well.  Like I said, it's quite a firestorm.
So what's my take? I already posted my thoughts on why the original argument is invalid–that fear of the Noise, aka the "tsunami of crap," is a specious reason not to epublish.  However, I think that the real issue goes much deeper than that.
The most fundamental divide between those who embrace the ebook revolution and those who fight it is whether or not they trust readers to find the truly great works of literature on their own.
The obvious question, of course, is what exactly constitutes "great literature." As a lover of genre fiction, I measure the quality of literature by the impact it has on readers; that when readers can't stop talking about how awesome a book is, it's a good book.  For that reason, I've never put much credence by Twilight bashers; paranormal romance might not be my thing, but Stephanie Meyer struck a chord in a lot of people, and that certainly counts for something.  In other words, story is King.
Putting it that way makes the argument somewhat circular.  Can we trust readers to find the good stuff on their own?  Yes, because readers read what they love.  But what about that literary piece about a depressed writer who has a sexual affair that completely changes his life?  Well, I guess it just wasn't that good.  But they would have loved it, if not for all that genre crap flooding the system!
As for readers getting swamped, I think the system itself prevents that.
First, readers browse by means of tags, search terms, categories, top seller lists, "also bought" lists, etc.  They follow book bloggers and take recommendations from friends.  When they find a book with an attractive cover, they click on it, give the book description a cursory glance, and perhaps check a few reader reviews.  If their curiosity is still piqued, they download the free sample to their ereader.
Up to this point, no money has been spent.  Readers can download as many free samples as they want, of anything that catches their fancy.  When they finally get around to reading the sample, they can decide whether they want to buy the book.  If they do, all they need is to click a button on their ereader, and the book is theirs.
Once they finish the book, the ereader prompts them to leave a review (at least the Kindle does this–not sure about the others).  If they enjoyed it, they can give a favorable rating which helps other readers find the book.  If they don't, they can give an unfavorable rating which warns others to stay away.
What is happening is nothing less than the democratization of literature.  Therefore, it should come as no surprise that those who trust readers will embrace the new system, while those who still cling to editors-as-gatekeepers will reject it at all costs.
But can we really trust readers?  Yes, if we believe that story is King.  If readers and writers are collaborators in the literary experience, and the truly great literature is that which has the greatest impact on its readers' lives, then it stands to reason that readers must be the ultimate judges of quality.
Therefore, if we truly believe in the power of story, we cannot help but put our trust in the readers.  And if that's true, why shouldn't we rejoice in the revolution?
I sincerely believe that we are witnessing the dawn of a great golden age of literature.  The invention of the ebook is at least as revolutionary as the Gutenburg press, perhaps a great deal more.
The only ones who have anything to fear from the revolution are those who have built their livelihoods by pushing their own arbitrary tastes on others.  Frankly, that's nothing less than cultural tyranny–and with the democratization of literature, we no longer have to put up with it.
Viva la Revalucion!