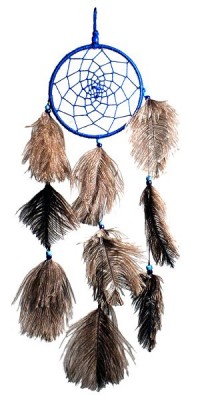 When a character in a story has a dream, there's almost certainly a reason for it.  If it's not thrown in just to show how scarred or tortured he is (or alternately, how repressed he is), chances are good he's dreaming of things to come.
I'm a huge fan of this trope, as you may be able to tell if you've read any of my books.  It's a special form of foreshadowing that lends a mystical, otherworldly flavor.  It's also something that we can relate to: how often have you had a dream that was so powerful, so moving, that it just had to mean something?
When played straight, this trope often implies some sort of all-seeing being who sent the dream on purpose.  However, this doesn't have to be the case.  I often find it much more satisfying when we don't know where the dream came from.  It's very easy to shatter the sense of wonder by over-explaining things, especially when it comes to the dream world.
Of course, the character doesn't just have to dream of things to come to capture that sense of wonder.  They can also dream of times gone by, discovering something previously unknown about the past, or dream of the truth, working through a previously unsolvable problem in their sleep.  The mystical, otherworldly flavor still holds true for all of them.
As you might expect, this is a fairly common trope in fantasy.  Some prominent examples include:
Lord of the Rings
The Silmarillion
A Game of Thrones
The Black Cauldron
American Gods
Most of the Redwall books
Dragonsflight
Watership down
Why is so popular?  Even though dreaming is such a common, universal experience, it's still shrouded in mystery.  It resonates deeply with us because we can all relate to it, and at the same time it opens all sorts of windows into the fantastic because there is so little we understand.
Like I said before, this is sort of a pet trope for me.  Consciously or not, I tend to throw in at least one dream sequence in every book I write.  It seems to have worked pretty well so far, so I don't think I'll be changing that anytime soon.