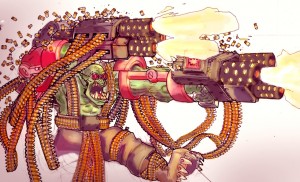 Today's issue of Dave's Daily Kick was titled "Hooking Credibility," and I'm not sure what I think of it.  At the end, Dave's brother Tailspin Jim had the following to say:
What I'm about to add is so basic that [Dave] would never think to include it, but you may be like the vast majority of Kick readers who just don't have his depth of background on this subject or who would be benefited from taking a look at it.

Each hook or marketing ploy is like firing a bullet at your reader. You probably won't kill their resistance with the very first shot. You want to fire bullet after bullet until they collapse and make the decision to buy.
Not only does this statement smack of everything I hate about sales and salespeople, but it seems to fundamentally clash with the new reality of publishing.
With social networking and the internet, writers can now connect directly with their readers.  For those going the indie route, this is absolutely essential.  The key element to success, from what I can see, is developing an ongoing relationship with your fans–one in which they take the role of patron, not merely consumer.
There's a huge difference between thinking of readers as patrons and thinking of them as consumers.  If they're just consumers, then the end goal is to get them to buy your product, and there's nothing wrong with spamming them or shamelessly plugging yourself if that's what works.
But if they're patrons, the end goal is to develop that relationship–to connect with your readers on a meaningful level, both before and after they buy your work.  And in this brave new world of publishing, that seems like the best coarse to take.  Consumers have to be sold on each individual book; patrons are sold on you, so they'll read everything you put out.
And as a reader, that's how I buy.  Whenever I find an Ende or a Wilson or a Le Guin in the bookstore, I rush to grab it, because those are the writers who speak to me.  I've bought just about every Sanderson in hardcover because I love his work and want to support him.
That's why this comparison of bookselling to "a series of bullets being fired from an automatic rifle at the prospective buyer" rubs me in all the wrong ways.  I'm not just peddling widgets; I'm creating art and sending it out into the world, waiting patiently for it to return back a hundredfold.  And if I work hard to create the best possible art and treat my readers (aka you guys) as my patrons, I sincerely believe that it will.
So to all of you who have read my books, regardless of whether you bought them or downloaded them from Smashwords for free, I just want to say thank you!  The greatest honor any writer can have is to be read, period.
I also want you to know that I'm never going to "shoot" you with a bunch of cheap sales tricks or "hooks" that get in the way of the story.  I'm just going to write damn good books and put them out where you can find them, trusting you to rate, review, like, and share them if you feel they truly deserve it.
I will never, ever, EVER put a gun to your head to get you to buy my work.  I'd much rather you jump at the chance to read a Vasicek, because that's what speaks to you.