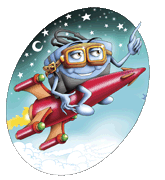 So I just finished packing for Worldcon, including 4 apples, 1 lb ginger snaps, and enough PBJ material to last the weekend (because fast food is disgusting and expensive).  I'll be leaving tomorrow at 6:30 am with Cavan to pick up Logan in Orem, then meet up with Eric in Eagle Mountain and head out for Reno, hopefully before 7:30.
This will be my first time at Worldcon, and I'm pretty stoked!  It looks pretty freaking huge–Charlie sent me the PDF of the pocket program, and it had maybe twenty times the number of rooms for panels, workshops…man, it's going to be hard not to get lost.  Also, I don't think they'll be giving away free books like at World Fantasy, though I'll keep an eye out for whatever I can find!
I don't have any specific goals, but here is what I would like to do:
Meet up with the other Utah writers (there are a lot of us!).
Network with other indie writers and book bloggers.
Gather as much info on ebooks and the publishing industry as possible.
Discover up-and-coming short fiction markets and what they're looking for.
Gauge the general zeitgeist of the science fiction & fantasy community.
Throw something at Brandon.
Have fun!
That's just about it.  See you in Reno!