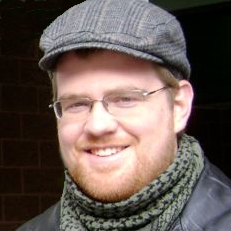 When I was eight years old, I read A Wrinkle In Time by Madeline L'Engle and knew that I would be a writer.  Shortly thereafter, I discovered Star Wars and fell in love with science fiction.
I didn't get serious about writing until 2007, when I joined the Quark writing group at Brigham Young University.  That's when I started this blog.  I finished my first novel a few months later, and have been writing consistently ever since.
While at BYU, I took Brandon Sanderson's English 318R class twice and volunteered as a slush pile reader at Leading Edge, the student-run science fiction & fantasy magazine.  I studied political science because it was the closest thing to psychohistory that I could find.  On a whim, I signed up for an Arabic class and loved it so much that I added Middle Eastern studies as a second major, traveling to Jordan in the summer of 2008 as part of a study abroad program.
My dream is to make a living telling stories I love.  Towards that end, I hope to release a minimum of two novels per year, in addition to novellas and short stories.  I love connecting with readers, so don't feel shy about posting in the comments or sending me an email!  I read everything and try to respond as thoughtfully as I can.
Writing can be frustrating and difficult at times, but honestly, there's nothing else I'd rather do.  With epublishing and the ability to connect directly with readers, I feel that there's never been a better time to be a writer.
Contact
If you would like to contact me for any reason, you can reach me at joseph dot vasicek at gmail dot com.  You can also find me on twitter and facebook.
License and copyright:

Unless otherwise noted, all content on this website is licensed under a
Creative Commons Attribution-Noncommercial-No Derivative Works 3.0 United States License.