I'm currently in Kutaisi, about to catch the night train to Tbilisi for church, but I thought I'd post a quick update just to let you know how I'm doing, and what I've been up to.
The last few days have been awesome. I went backpacking with a friend of mine from last semester, and we had a blast.  Hiked the pass near Mount Didmaghali between Sairme and Abastumani, up above the treeline.  I'll do a big post on it sometime next week, with stories and everything (and boy, are there some stories), but before that, I wanted to share this: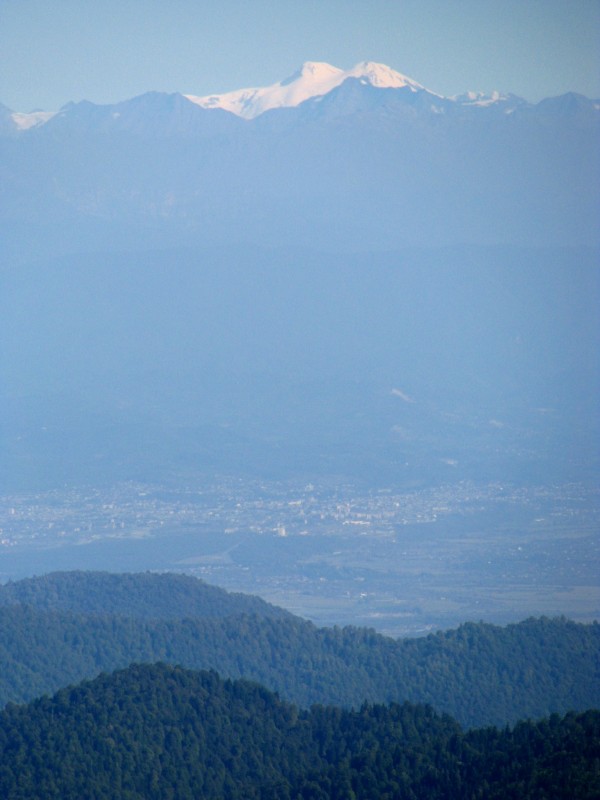 That's Mount Elbrus, the highest mountain in Europe, with the highlands of Svaneti just below it, and Kutaisi in the foreground down in the valley.  The elevation difference is over 5,500 meters (18,000 feet).  The picture is a bit fuzzy because of the haze, as well as the distance between points and the poor quality of my old camera, but it was an unbelievably beautiful day–as evidenced by the clear view of Elbrus's summit.
Awesome, awesome stuff.  From Zedeki pass, we could see almost the entire Caucasus range, from Mount Elbrus in the west to Mount Kazbek in the east.  The conditions could not have been more perfect.  Covered between 35-40 km (20-25 m) in two days, in a beautiful, remote region between Imereti and Samtskhe-Javakheti where few people, let alone tourists, ever go.
I've got to go now, but expect to see a longer post on the trip soon.  School starts on Monday, so things might be a little crazy for a while, but I'm sure they'll settle down soon into a comfortable and productive routine.  See you around!