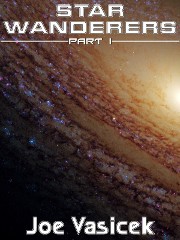 That's right–the first part of my novel Star Wanderers is now available on Kindle and Smashwords for $2.99!  Barnes & Noble, iTunes, and Kobo editions should be coming out shortly (though I'm waiting for Kobo to launch their direct publishing platform, which may take a while).
This is the first part of a four part novel, but really it's more of a series of short novellas since each part has its own distinct story arc with a beginning, middle, and end.  This one is about 15,000 words (or 40-60 pages), and takes place in the Gaia Nova universe about a thousand years before the events of Bringing Stella Home.  It's about a boy and a girl who don't speak the same language but find themselves alone on a starship together.  Here's the description:
HE WANDERS THE STARS IN SEARCH OF A HOME. INSTEAD, HE GOT A GIRL WITHOUT ONE.

When Jeremiah arrived at Megiddo Station, all he wanted was to make some trades and resupply his starship. He never thought he'd come away with a wife.

Before he knows it, he's back on his ship, alone with his accidental bride. Since neither of them speak the same language, he has no way to tell her that there's been a terrible mistake. And because of the deadly famine ravaging her home, there's no going back. She's entirely at his mercy, and that terrifies him more than anything.

Jeremiah isn't ready to take responsibility for anyone. He's a star wanderer, roaming the Outworld frontier in search of his fortune. Someday he'll settle down, but for now, he just wants to drop the girl off at the next port and move on.

As he soon finds out, though, she has other plans.
Also, I'm happy to report that I finished the full-length version of Star Wanderers over the weekend, making it my seventh written novel!  Here are the stats:
words: 68,367
chapters: 20
ms pages: 317
start date: 1 September 2011
end date: 1 July 2012
And some other stats, just for fun:
kilometers traveled: ~32,000
languages encountered: English, Georgian, Russian, Mingrelian, Hebrew, Arabic, Turkish, Farsi, Polish, Slovakian, German, Armenian, Spanish, French, and Australian
other books started before finishing: 4
other books finished before finishing: 2
other books published before finishing: 2
Part II is pretty close to publication, but Parts III and IV still need a bit of work.  Since the rough draft is finished, though, it shouldn't take too long to get everything else ready.  If all goes well, I'll publish Part II in August or September, and the other parts in two month intervals.
This novel was a lot of fun to write, in spite of how difficult it sometimes was.  I always knew it was a story worth telling, and that gave me both the motivation to finish it and the courage to send it out into the world.  I think you guys are really going to like it, especially if you've enjoyed my other sci fi romance stuff.  As I said on Twitter back in 2011, girl + starship = WIN!
So yeah, check it out!  And be sure to keep an eye out for Part II, which should be coming out in just a month or two!