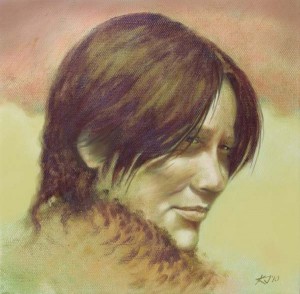 Oh look!  While traveling in distant lands, the hero met a girl–probably the chief's daughter–and fell (or rather, stumbled) in love.  The catch?  Neither of them speak the same language.
That's okay, though: through the power of love, the two of them will somehow find a way to understand each other.  Whether through touch, music, math, or a montage filled with magical sparkles, they come to discover that love itself is a language, one which they know fluently.
To be honest, I was a little disappointed in the page for this trope.  It's pretty dang sparse, though it does make a couple of good points.  The main one is that this type of story almost always has the male character speak the language of  the audience, with the female character being the foreign or exotic one.  That might be because the seductress is such a powerful character archetype…but then again, it might just be because everything sounds sexier in French.
My favorite example of this trope is in the film Jeremiah Johnson, where the hero unwittingly stumbles into a marriage with–you guessed it–the chief's daughter.  What starts out as an awkward pairing, to say the least, turns into a wonderfully endearing love story, as Jeremiah builds a cabin for the two of them (and the mute boy he picked up earlier…long story) and together they become a family.
Because this is a major driving element in Star Wanderers, the novel I'm currently writing, I'm especially conscious of this trope right now.  However, I can't think of many good examples where this trope came into play.  Do you have any ideas that you can share?  Favorite stories where love overcame a major language barrier?  If so, I would love to hear about it.  Because in spite of my tongue-in-cheek comment about the sparkles, I think this trope has some really awesome potential.
Image by Kevin Jackson.  Taken from here.