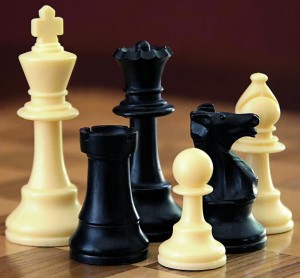 Chess is quite possibly the oldest, deepest, most well known and widely played board game in the world.  It should come as no surprise, then, that it's often used as a motif in works of fiction.
The interesting thing is how well the pieces fit some of the classic character archetypes:
And that's not all.  The major chess strategies also correlate loosely to major story tropes.  For example, at the beginning of the game, it's important to move the king to safety, while in the endgame, the king becomes a much more important offensive piece.  Likewise, the hero often spends the first half of the story running away from the bad guys, while in the second half, he starts to take real action.
And the list goes on.  The more I learn about chess, the more parallels I see.  It's gotten to the point where I want to try diagramming a novel, or perhaps a series, according to a chess game, with that fact being part of the big reveal.  Or perhaps to have one of the major characters have a long-standing chess rivalry with another character who ends up being a major bad guy.
Or something.  I'm just starting a new novel, so everything looks fresh and exciting.  The story will probably change and evolve considerably over the course of writing it, but since it's a fantasy novel, I think that some chess motifs may be especially appropriate.  Fantasy, after all, is about taking the reader back to a golden age of magic lost in the pages of history, and chess is perhaps the oldest popular game in the world.
In the meantime, is anyone up for a game of chess?
Image (cc) from wikimedia commons.