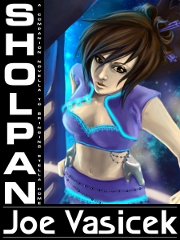 My novella Sholpan just went free on the Amazon site!  Currently it's at the #26 spot on the science fiction –> adventure bestseller list, and ranked #1,783 free in the kindle store overall.
If you'd like to check out some of my writing but haven't gotten around to it yet, Sholpan is a good place to start.  It takes place in the same fictional universe as my novels Desert Stars and Bringing Stella Home, with several others in various stages of planning and completion.  It's a companion novella for Bringing Stella Home, which means that it follows the first half of Stella's storyline from the novel, with some extra scenes and backstory to flesh things out.
Of course, if you don't like shopping at Amazon, you don't have to be left out: Sholpan is also available as a free download from Barnes & Noble, Smashwords, Diesel, and Kobo.  All of my other ebooks are also available from those sites, so you can check them out there as well.
If you've already read Sholpan and enjoyed it, I would appreciate it immensely if you would take the time to rate it or post a review.  It only takes a moment, but it helps me out a ton.  And of course, I'm only looking for honest reviews, so I won't be offended if you don't give it five stars if you don't feel it deserves it.
It isn't free yet on Amazon's other stores (UK, Germany, France etc), but I've contacted Amazon so hopefully that will soon change.  In the meantime, I hope you enjoy!