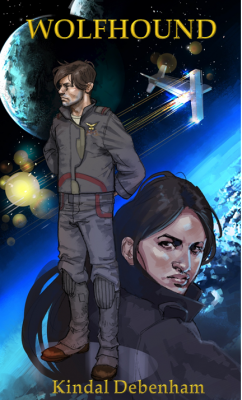 Jacob Hull may be just a spacer's son, but he's not afraid to dream big.  As an ensign in the Celostian Navy, his biggest dream is to pilot a destroyer like the Wolfhound, the brand new ship on which he receives his first assignment.  But when pirates attack on their training exercises and drive them far from the rest of the Celostian fleet, Hull realizes that his dream might be more than he asked for…
Full disclosure: Kindal Debenham is actually a good friend of mine–we were both members of Quark in college and still keep in touch as alpha readers for each others' books.  That's not why I'm saying that I loved this book, though.  I'll admit, I had a few doubts when I first started it.  The descriptions are a little wordy, the formatting isn't perfectly clean–but none of that really matters, because the story is AWESOME.
Why is it so awesome?  Because it's full of characters you want to root for, facing one impossible conflict after the other, each one bigger and more daunting than the one before.  The story gets off to a decent start, but it really starts to take off after the first third or so, and just keeps getting better and better right up to the end.
Seriously, this is the kind of book I used to hunt for in the library as a kid.  It reminds me a little of the old Star Wars novels by Timothy Zahn, Kevin J. Anderson and Michael A. Stackpole.  Forget dark, dystopian futures and boring, high-concept stuff–this is some rip-roaring space opera, with stations you wish you could visit and starships you wish you could fly.
So yeah, I loved this book.  Great read; once I got into the second half, I couldn't put it down.  If you're a fan of space adventure stories, you should definitely check out this book.  It's available from both Amazon and Smashwords as an indie published ebook, and it's actually holding it's own quite well on the Amazon bestseller lists.  It definitely deserves the spot!  Oh, and if you want to check out Kindal's blog, you can find him here.