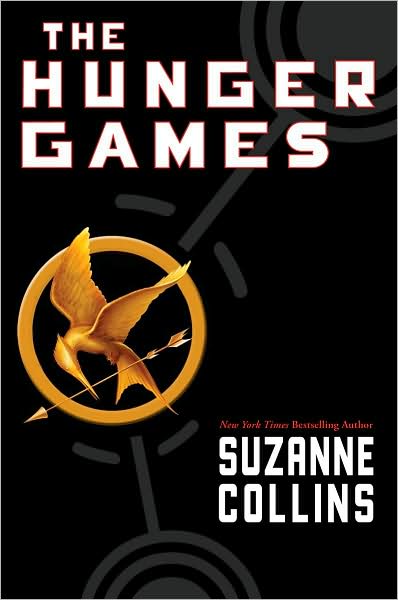 This book review is going to be a bit unconventional, so please bear with me.
Normally, I only review books on my blog if I feel I can recommend them.  They might not be perfect, but overall, the praise outweighs the criticism. However, for me personally, The Hunger Games was a huge disappointment.
I'm not going to do a little book blurb like I usually do, because I want to spend all the available space on this post explaining the reasons why I was so disappointed.  Also because of that, this post will be full of spoilers.  Consider yourself warned.
First, let me say that I don't think this book was all bad.  Suzanne Collins is very good at plot and pacing, and she knows how to keep a reader hooked.  In that way, this book reminded me of the old Michael Crichton thrillers that I devoured as a kid.
However, two crucial things killed about half of the suspense for me: the fact that this book was the first in a series, and the first person viewpoint.
From the very beginning, we know that Katniss isn't going to die.  We know it, because she's narrating the story to us directly (in present tense, which personally irks me, but I won't go into that).  Unlike other gladiator-style heroic fantasies, where the major draw is to see who lives and who dies, we have that spoiled for us.
Of course, the argument in favor of the first person is that it helps the reader feel a closer connection with the viewpoint character.  The problem is, I never did.  At the end of the book, Katniss still feels like an outsider to me; I never felt like I got inside her head well enough to know who she really is.  When I try to imagine her, all I can envision is a wide-eyed mannekin.  She just didn't come alive to me.
Why? Because the whole time, she's only got one thing on her mind: survival.  I don't see anything but fragmentary glimpses of her other motivations, and those are never fully fleshed out.  Her experiences growing up were just so traumatic that I can't relate to her, and Suzanne Collins never provides a reference point outside of the awfulness of Katniss's crapsack world.
Which is another thing that got to me: the setting.  Every time I opened the book, I dreaded going back to Collins' world–and not in a good, "ooh, this world is so creepy/frightening" way, but in a "man, this place just makes me depressed" kind of way.  It wasn't even that original–Panem is basically the USA as North Korea (though it could take place anywhere, for all the details Collins gives us).
What's more, the setting is full of inconsistencies.  The people are starving to death, but the forests are full of game and wildlife.  In North Korea, people raze the forests for fuel and timber, driving all the game out.  Yes, I know the people of District 12 mine coal, but all of it presumably goes to Capitol, just like in District 11 all the grain goes to Capitol and the people still starve. Which makes me wonder: why are all the districts specializing in only one commodity?  That's just stupid.
Which brings me to another thing: the sheer idiocy of the rulers of Panem.  If the Hunger Games are supposed to remind the people of how subjugated they are, why allow the tributes the opportunity to do something like pull a romance stunt?  Why spend all that time primping and preening them, interviewing them, and giving them an opportunity to manipulate the crowds?  When the people of District 11 sent Katniss the bread, why didn't a government censor stop that from happening?  And finally, when Katniss and Peeta were the only ones left standing, why give them the opportunity to upstage the games by falling on each others' swords?
Seriously, that last point got to me more than any of the others.  When they announced the rules change, that Peeta and Katniss were supposed to kill each other after all, why couldn't the GM see the potential for things to go wrong?  Seriously, having them both kill each other–or refuse to kill each other–was such a blatantly obvious choice, I saw it the moment the rule change came into play.  The fact that the villains didn't just threw me out of the story.
But that wasn't the first thing that threw me out of the story.  The first thing was the parade, with Katniss and Peeta marching into the arena with their flaming cloaks.  All this time, Katniss has been set up as the underdog–she isn't pretty, she isn't strong, she's mildly sympathetic for volunteering in place of her sister, but the audience in that arena is looking for blood, not sympathy.  So when the crowd goes wild for her and Peeta, I just didn't buy it.
It only got worse as things went along.  When the tributes did the skill check, Katniss–who, from the beginning of the story, has been set up as the underdog–scores higher than anyone else.  Every time she's in front of an audience, everyone is oohing and ahhing.  It made me want to gag.
Honestly, you know what it seemed like?  It seemed like Suzanne Collins fell in love with Katniss so much that she wanted to spoil her, even though the story required her to keep up the pressure.  She made sure to torture Katniss in the games–so much so that it felt downright melodramatic at times–but while they were still in Capitol, waiting for the games to start, Katniss felt like a spoiled Mary Sue.
And as for the romance, it fell completely flat from the beginning.  Katniss was nothing but a manipulative faker from the beginning–granted, because she needed to in order to stay alive, but the least she could have done was coordinate that with Peeta.
And that's another reason why I had such little sympathy for her–she's a callous, manipulative, lying little heartbreaker, like far too many women in this world.
So yeah, The Hunger Games was, in my opinion, a huge disappointment.  I can partially see why it did so well (strong female protagonist, excellent plot structure and pacing, lots of hooks and cliffhangers), but personally, I don't think it deserves half the praise it's gotten.  And after what friends have told me about the rest of the series, I can guarantee that I won't be reading them.