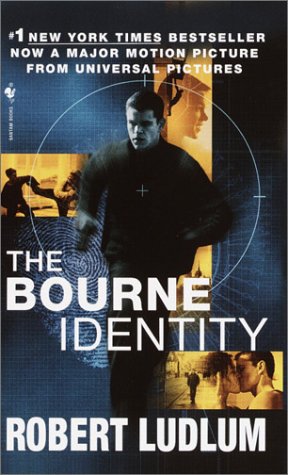 On a stormy night off the coast of Marseilles, a local fishing trawler recovers a man with a gunshot wound to the head.  The local doctor patches him up, but when he recovers, he has no knowledge of his past life.  Even his name is a mystery.
Fortunately, he has a clue to help him get started: a microfilm surgically implanted in his hip containing an account number for a bank in Switzerland.
When he arrives in Switzerland, he finds that the account contains millions of dollars, as well as a name: Treadstone 71.  Before leaving the bank, however, a squad of hitmen attack and nearly kill him, for no reason that he can possibly understand.
On the run from people he doesn't know for things he doesn't remember, Jason Bourne finds himself in a struggle, not only for his life, but to find his true identity.  But the answers, he fears, are much, much darker than he can possibly accept.
Okay, to start things off, let me say that this book is NOTHING like the movie.  NOT AT ALL.  The two are completely separate stories.  The beginnings of both are similar, with the whole amnesia thing and the bank account number implanted in his hip, but after Jason leaves Marseilles, everything gets different.  EVERYTHING.
For that reason, it's difficult to say which is better, because they both try to do very different things.  The movie is more about the action and suspense; the book is more about the intrigue and character development.  Both succeed quite well at what they respectively set out to do.
That said, I enjoyed the book at least as much, if not more than the move.  Ludlum's writing is quite good, and he paints an excellent picture of both the exotic European setting and the complex psychological portrait of his main character.  Unlike Crichton, whose characters often fall flat, Ludlum does an excellent job creating characters who stand up on their own right.
The suspense lagged somewhat in the middle for me, when the details about Cain and Medusa came to light (that's one thing I've got to say about Crichton–he's a master of suspense), but it wasn't enough to keep me from finishing.  The ending, however, was atrocious–not in a clumsy way, but in a too-many-loose-ends kind of way that meant that the story wouldn't truly be resolved until the sequel.  I hate stories that do that, but oh well, what can you do?
Overall, though, the book was quite good–better than I expected.  I can see why Ludlum was such a successful writer: he created interesting, capable characters and put them in exotic, foreign settings to fight ruthless, evil villains in a desperate zero-sum struggle for survival.
Interesting characters + exotic setting + high stakes conflict + good writing = win.  Oh, and Bourne is way more awesome than Bond. Just sayin'.