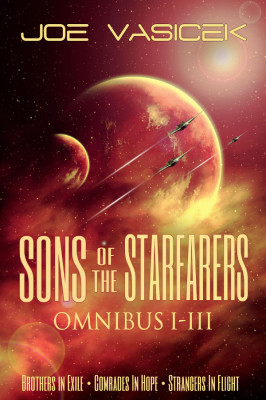 To wake a lost girl from the ice, two brothers must face an empire.
Far in the distant future, at a derelict station on the edges of colonized space, two starfaring brothers discover a beautiful girl frozen for countless ages in perfect cryostasis. In their quest to find some way revive her, they soon become swept up in a deadly war between the frontier Outworlds and the Coreward empire. But there are more sides to the conflict than those openly at war, and the girl herself will play a pivotal role in deciding humanity's fate among the stars.
Order Now!
About the Book
This omnibus edition contains the first three books of the SONS OF THE STARFARERS series, which include:
BOOK I: BROTHERS IN EXILE
BOOK II: COMRADES IN HOPE
BOOK III: STRANGERS IN FLIGHT
TO WAKE A LOST GIRL FROM THE ICE, TWO BROTHERS MUST FACE AN EMPIRE
Deep in the Far Outworlds, a derelict space station holds the bones of a long-dead people—and a beautiful young woman locked in cryofreeze. When the star-wandering brothers Isaac and Aaron Deltana find the sleeping girl, they soon realize that they are her only hope for rescue. If they don't take her, then slavers certainly will.
With no way to revive her, they set a course for the New Pleiades in hopes of finding someone who can help. But a storm is brewing over that region of space. After a series of brutal civil wars, the Gaian Empire has turned its sights outward. A frontier war is on the verge of breaking out, and the brothers are about to be caught in the middle of it.
They both harbor a secret, though. Somewhere else in the Outworlds is another derelict station—one that they used to call home. That secret will either bind them together or draw them apart in
SONS OF THE STARFARERS
BOOK I: BROTHERS IN EXILE
WAR BROUGHT THEM TOGETHER, BUT ONLY HOPE CAN UNITE THEM
War has come to the Outworlds. An Imperial expeditionary force has taken the frontier systems and threatens to strike at the heart of the New Pleiades. The only thing standing in their way is a ragtag flotilla of starfarers and merchanters, their motives as varied as the stars from which they hail.
Aaron Deltana can barely speak the same language as his Outworld comrades, but he isn't about to let that stop him. Though he has no military training or combat experience, he's determined to prove his valor. Besides, the Imperials have taken something very dear to him—something that he has sworn to take back.
He isn't the only one with a score to settle. Mara Soladze, the only other Deltan in the Flotilla, has vowed revenge on the Imperials for killing her father. Where Aaron hopes to prove himself, though, Mara fully expects to die—and her fate is tied to his.
Aaron isn't prepared to make the ultimate sacrifice, but when the war turns against them, it looks as if he may not have a choice. Only one hope stands between him and death in
SONS OF THE STARFARERS
BOOK II: COMRADES IN HOPE
FATE HAS BROUGHT THEM ACROSS TIME AND SPACE, BUT WAR WILL DRIVE THEM FARTHER
For countless ages, Reva Starchild has slept in perfect cryostasis. Frozen in secret to escape a catastrophic death, she awakens only to find herself the sole survivor of a people whom history never remembered. Light-years from her homeworld, among a culture she finds both perverse and obscene, she must somehow build a new life for herself where misplacing her trust could be fatal.
With nowhere safe to run, she finds refuge on a small starship with a mysterious young man who seems to be fleeing something as well. Where others have sought to enslave her, though, he treats her with unexpected kindness. As they slowly open up to each other, she learns that he too carries a burden—one she can barely comprehend.
Isaac Deltana indeed carries a burden. The failure of his mission at Colkhia has brought untold calamity to the Outworld forces and almost certainly led to the death of his brother. Now, he flees from the Gaian Imperials to prevent them from obtaining the secret technology he carries—one that will change the face of interstellar war forever.
Little does he know, the Imperials aren't the only ones hunting him in
SONS OF THE STARFARERS
BOOK III: STRANGERS IN FLIGHT
Disclosure of Material Connection: Some of the links in the page above are "affiliate links." This means if you click on the link and purchase the item, I will receive an affiliate commission. You will not receive any additional charge.